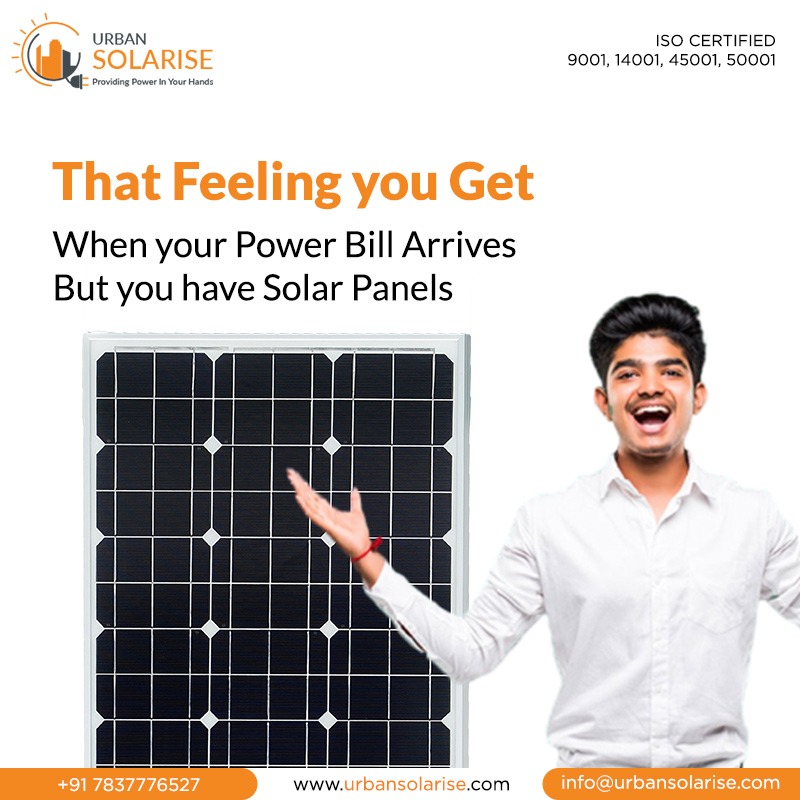 Solar Panel Installation in Sirsa
Solar Panel Installation in Sirsa – If you are tired of paying the electricity bill every month and want to do something good for the environment, installing solar panels is a very feasible option for you. Urban Solarise provides Solar Panel Installation in Sirsa. Invest one time and get unlimited returns while also helping the environment. Our team of professionals can install solar panels for all your power supply needs including rooftop, domestic, commercial, etc.

Pros of Solar Panel Installation
Cost-Effective-It is cost-effective and saves a lot of money by making a one-time investment and getting returns for a very long time.
Low-cost maintenance- Once the solar plant is installed, the cost of regular maintenance is very less and will be provided regularly by our company, Urban Solarise.
Going Solar is a Smart Choice because
Easy to Install- Installing a solar plant is a smart choice because it has many pros including less energy consumption, less space requirement, low maintenance cost, and most importantly it is easy to install.
Long-term Supply of Light and Power- Installing solar panels mean a lifetime of light. This means you can forget about paying your bills for a long time.
Environment Saver- Latelydue to a lot of issues the environment is getting worse, if you are concerned about saving the environment then this is a viable option for you.
Cost-Effective- Installation of solar panels is a feasible option if you are looking for a one-time investment with a long-time return, then installing solar panels is a practical option for you.
There are many reasons for going solar including personal, financial, environmental, or political. Some of these reasons are:
Low Maintenance Cost
Environment Friendly
Cost-Effective
Earn Profits from Solar Panels
Increase your House's Value
Unlimited Source of Energy
Uninterrupted Power Supply
How Much Does Solar Panel Installation In Sirsa Cost?
The cost of the panels could range from Rs 35 to Rs 75 per Watt. A regular PV system consists of a solar PV module panel, inverter, structure cables, batteries, and other components. Due to the batteries being expensive, solar PV systems cost approx. Rs 1 million.
Rooftop solar panels, with assembly, cost roughly Rs 55,000 per kilowatt. Using a battery backup system will raise the cost from Rs 85,000 to Rs 1,00,000. However, there are more advantages to saving your money.
Services offered by Urban Solarise-
Consultancy
Energy Audit
Project Development
Engineering, Procurement, and Construction
Testing and Commissioning
Operations and Maintenance
Workshops and Training
Urban Solarise solar panel Installation Services
Delivering Guaranteed Service- We at Urban Solarise Sirsa believe in giving our clients top priority and the best services by connecting them with the best professionals, who assure quality and reliability in their work and renowned workers for solar plant installation in Sirsa for all your needs including rooftop, domestic, commercial, etc.,
Full Service- Our skilled team has workers with years of experience in installation work, whether Rooftop solar plant installation or a commercial one. We make sure to bring you the best quality service.
Ensuring Client Health and Safety- We, the Solar Company in Sirsa understand the importance of your property and privacy, so we connect you with those workers for solar plant installation who consider their client's health and safety as their top-most priority.
Consistency and Quality-The staff at our Solar Company in Sirsa are experts in the installation process and provide top-tier quality with the best consistency.
Complete Project Management- Every detail of your installation project will be completely managed by the professionals of Solar Company Sirsa. From consultation till consumer satisfaction is achieved.
Be Worry-Free with our Services- By using our services you will be worry-free because we will provide support to your system for a lifetime. We are there for you, anytime!
All these things make our company one of the best Solar Panel Installation companies in Sirsa.
Why Is Urban Solarise the Best Solar Installer in Sirsa?
Urban Solarise acts as a one-stop solar energy shop, where you can consult, plan, design, develop, and maintain your solar energy solution easily and efficiently, without much risk. So, if you want to get an unlimited supply of power with a one-time investment or want to help the environment, then we, at Urban Solarise are happy to provide you with our services.
We aim to achieve maximum customer satisfaction by providing the most reliable services to you at an affordable price. So, contact us for all your Solar Power Installation needs for the best services.
Contact Details
Urban Solarise Private Limited
Location: Plot No – 1669, First Floor, Phase 10, Sector – 64, Punjab – 160062
Phone: 783-777-6527
Email: info@urbansolarise.com